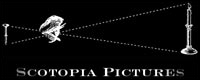 Website Overhaul
Hey Friends,
We are in the process of overhauling the Scotopia Website.  Why?  Well, we wanted a more modern look and feel.  This place was starting to feel like my Grandfather's website, and he's been dead for decades.
Please be patient while we are learning how to use WordPress and in the meantime check out our latest film and video work on our home page.
Thanks for visiting and thanks for your patience.