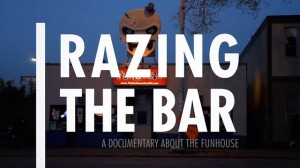 RAZING THE BAR at Seattle's GRAND ILLUSION
Our documentary RAZING THE BAR has a 1 week theatrical run at Seattle's Grand Illusion Theater.
The film documents the development and eventual demolition of well-loved punk rock Seattle venue The Funhouse. The result is a funny, often charming, insiders look at a man who inspired a community through leading by example.  It's a film that we're very proud of, and hope you can make it to one of our screenings.
July 11-17 :: Grand Illusion Theater for Showtimes
Follow our antics on Facebook and Twitter.
Check back for more info on upcoming screenings.